CTGA is home to nine gymnastics disciplines under the FIG Gymnastics Umbrella
Cape Town Gymnastics is home to 9 gymnastics disciplines under the Gymnastics Umbrella of the FIG. Have a look below for more information about what each of these disciplines entail!
CTGA has something for everyone!
Have a closer look into our disciplines and what they are all about. If you require further information from our Programme Managers of these disciplines, their information is below. Please ensure that your queries are specific to the discipline. Forward all other queries to our central office: ctgasecretary@gmail.com
Men's Artistic Gymnastics
Men's Artistic Gymnastics (MAG): This discipline of the gymnastics family is the oldest form of gymnastics reported to be a popular Olympic sport.

Men have competed in gymnastics since 1896 Athens Olympics and apparatuses since then have undergone extensive modifications, which has changed gymnastics radically.

The traditional men's apparatus are floor exercise, pommel horse, rings, vault, parallel bars and the horizontal bar (Lucas, 2015).
Women's Artistic Gymnastics
Women's Artistic Gymnastics (WAG): This is the most popular of all the gymnastics disciplines, despite injuries which can result due to the demands of strength, power, flexibility, agility and coordination and balance. A combination of technical precision and artistic creativity is required on four apparatus namely; floor exercise, balance beam, uneven bars and vault. Routines performed in Artistic Gymnastics are short in duration, but require gymnasts to display high levels of strength, flexibility and endurance (Lucas, 2015).
Rhythmic gymnastics combines ballet and creative movements to music, and incorporates hand apparatus, namely ribbons, balls, hoops, ropes, and clubs in a choreographed dance-and-tumble routine. This discipline has a larger dance element than artistic gymnastics and is currently only competed in largely by women, but the sport is transforming to include males, too. In Rhythmic gymnastics, there has been an evolution in preference for gymnasts who display increased flexibility akin to contortion. (Lucas, 2015).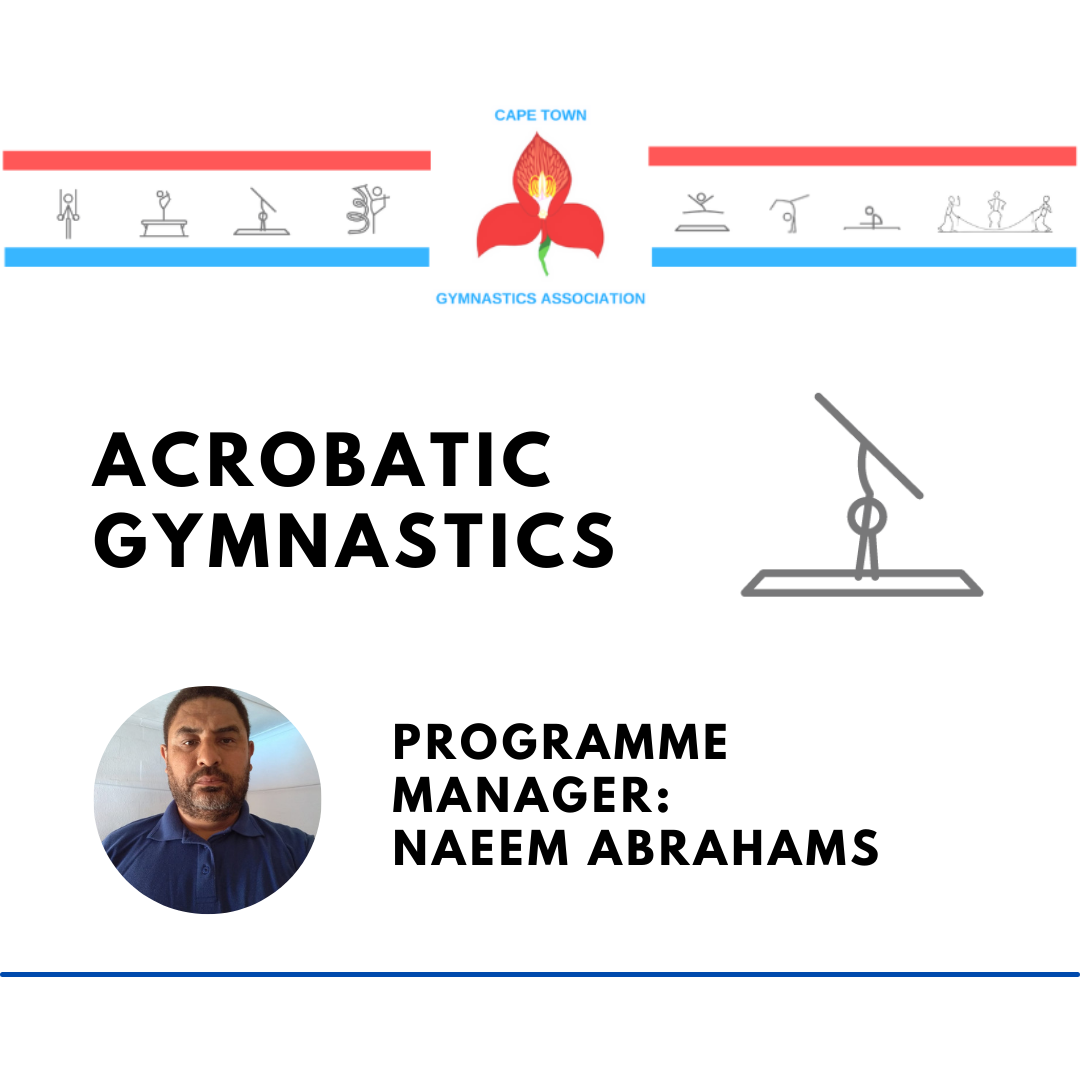 Acrobatics is the performance of extraordinary feats of balance, agility, and motor coordination and both men and women are able to participate in this discipline in groups of two, three and four, performing routines to music.

Acrobatics is associated with activities that make use of gymnastics elements such as acro dance, circus and gymnastics, but many other athletic activities such as ballet and diving may also employ acrobatics. It is therefore found in many of the performing arts as well as in many sports events, including martial arts (Lucas, 2015).



Trampoline Gymnastics consists of four events namely; individual trampoline, synchronized trampoline, double-mini trampoline, and tumbling. Routines are judged according to skill difficulty and execution of elements (Lucas, 2015).

Tumbling is similar to artistic gymnastics, with regard to the athlete performing a series of tumbling skills along an 84ft sprung floor, with most competitions making use of a rod floor (Russell, 2013). Tumbling routines consist of eight skills, and the gymnast has two different routines to display at competition. One routine requires twisting elements, and the other requires somersault rotation elements (Lucas, 2015).
Aerobic Gymnastics is perhaps the most dynamic and energetic of all the gymnastics disciplines. There are two new competitive sub categories namely aerobic dance and aerobic step which have been added to the competitive aspect of the sport. The roots of aerobic gymnastics are found in group fitness and aerobic classes of the late 1980's. Aerobic Gymnastics can thus be seen to be a fairly recent addition to the stable of the gymnastics disciplines. Aerobic gymnasts may consist of both men and women who are able to perform in individual routines, as well as in mixed pairs (one male, one female), trios or groups of up to six gymnasts (men and women mixed, men only, women only).


Rope-skipping is done by twirling and jumping over the rope. The skipping rope used usually has handles on it. Rope skipping routines are done to music and gymnasts/jumpers are evaluated by a panel of judges, during competition.
Cardiopulmonary exercises require the gymnast/jumper to jump through, around or over the swinging rope during the execution of his/her routine, whilst executing skills and performing choreography. The gymnast/jumper can participate in different categories in this discipline namely; single rope, pairs, double dutch three and double dutch four (Lucas, 2015).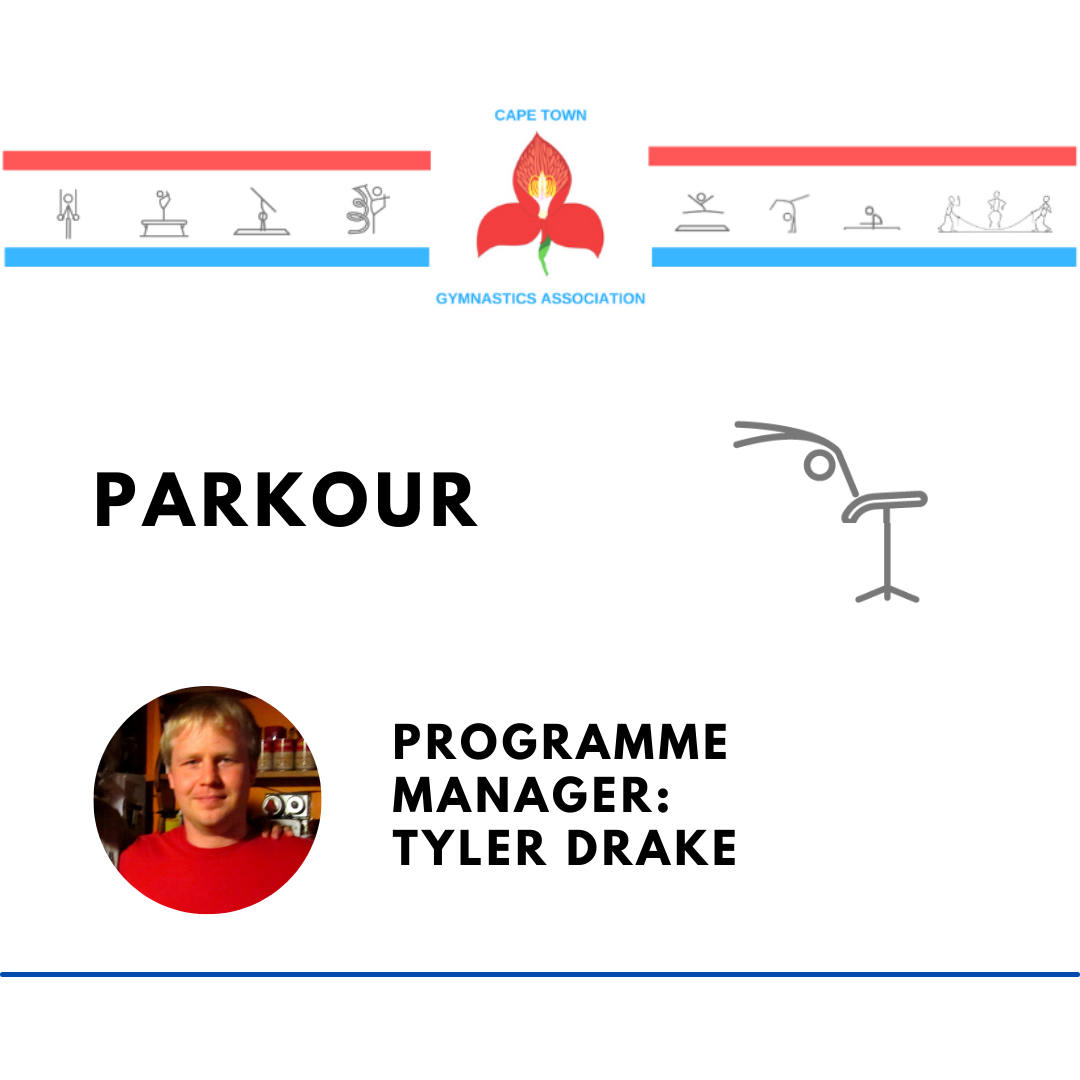 Parkour is a training discipline using movement that developed from military obstacle course training. Practitioners, aim to get from one point to another in a complex environment, without assistive equipment and in the fastest and most efficient way possible.

Parkour as a type of movement was established by David Belle in France in 1988, however the practice of similar movements in various communities around the world. The discipline was popularised in the late 1990s and 2000s through films, documentaries, video games and advertisements.

Gymnastics for All, seems to have quite a large scale level of participation. It enables people of all ages, and abilities to participate, but does not involve the winning of medals. It involves group performances with participants ranging from 1 – 1000 and more, per group, per club, per country. Gymnasts from different disciplines all come together and perform in "mass routines" which take place in large arenas or stadiums to showcase talent and culture mixed together in originally choreographed gymnastics and dance routines. This discipline brings people from all walks of life together in the name of gymnastics, talent showcasing, being its platform (Lucas, 2015).